The Kenai River Cabins
at Sterling, Alaska
~ RENTAL CABINS and FISHING
2019 CABIN RENTAL and BANK FISHING - RATES

The Eagles Retreat Cabin*

( Sleeps up to 9 in 3 bedrooms; includes
private bank fishing )

June 1st - 30th - $125 per person per night

July 1st - 14th - $150 per person per night

July 15th - Aug. 11th - $285 per person per night

August 12th - Sept 30th - $150 per person per night


* Includes lodging and unguided bank fishing from our private 350+ feet of the best salmon waterfront on the river. Rods, reels, nets, and waders are included.





See more pictures of >>> The Eagles Retreat Cabin

The Bear's Den Cabin

( Sleeps up to 5 people in 2 bedrooms; includes
private bank fishing )


June 1st - 30th - $100 per person per night

July 1st - 14th - $150 per person per night

July 15th - Aug. 11th - $225 per person per night

August 12th - Sept 30th - $125 per person per night




* Includes lodging and unguided bank fishing from our private 350+ feet of the best salmon waterfront on the river. Rods, reels, nets, and waders are included.





See more pictures of >>> The Bear's Den Cabin



Peak Sockeye Season*: The peak sockeye salmon fishing season from our shoreline is usually between July 7 through August 11th and is booked with limited availability. The highlight of our fishing and lodging packages is the unparalleled bank fishing for red (sockeye) salmon from our private and exclusive waterfront as well as lodging at our upscale cabin facilities. Silver / Coho salmon fishing starts in mid- August and runs through September. King / Chinook salmon fishing runs from May through July 31st. Trophy rainbow trout fishing begins in May and runs through September. Call us for more information on the salmon runs and trout fishing.

The Kenai River Cabins at Sterling can also arrange guided fishing day trips. Some of these fully guided and outfitted day trips include charter fishing for halibut / ling cod / rock fish in the saltwater, or guided boat fishing on either the Kenai or Kasilof rivers for salmon and trophy rainbow trout. Other fishing day trips to remote rivers for salmon are also available with incidental bear viewing. Call for details.

Note: All prices are subject to additional 3% tax / fees. For the safety and comfort of our guests no pets
are allowed. All cabins are non-smoking.

Advanced reservations are highly recommended to help insure your party's dates.
Fifty percent deposit is required to confirm reservations with the remaining
balance due 30 days before your arrival.
Master card or Visa accepted.


DIRECTIONS

There is only 1 road going South out of Anchorage so this is easy. From
Anchorage, take the New Seward highway South approximately 1 1/2 hrs. where
the road splits. Do not go left to Seward. Take the right branch of the
road toward Homer. You will be on the Sterling Highway which you should
continue on until you reach the small town of Sterling. Between the Sterling Hardware store and the Post Office
in Sterling take a left on Midway Drive. Proceed approximately .6 miles down Midway to Robbie Way, which is a dirt road.
Take a right on Robbie Way and proceed approximately 100 ft to the first dirt driveway on the right
(to sign that says "Jamesons") to go to our Eagle's Retreat and Bear's Den cabins.
Take the second dirt driveway on the right (bearing to the right) to go to our office cabin.
The telephone number to call is (907) 242-7245 in case you get lost or need further directions.
For More Information, please email us at richard@alaskaoutdoors.com
or give us a call at (907) 242-7245
For information on our Cancellation Policy, click here.
Please read our Legal Waiver of liability for Outdoor Activities before booking.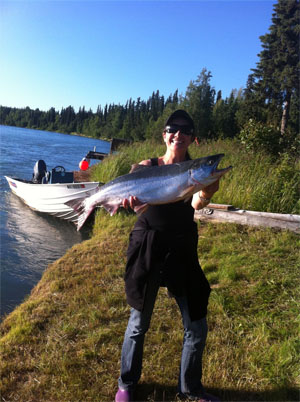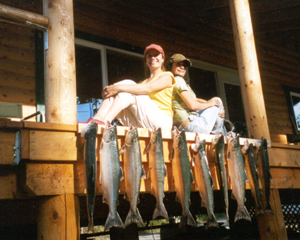 Customized lodging and fishing packages can be arranged according to your wishes.
Just give us a call for more information at either of the below telephone numbers.